Back to Blogs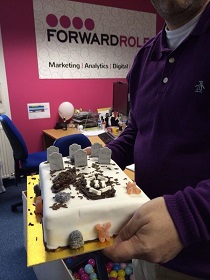 The Great Forward Role Bake Off
Here at Forward Role we love all things sweet, especially cakes! So we decided after discovering a shared interest in The Great British Bake Off to hold our own competition; The Great Forward Role Bake Off!
The rules were simple; every Friday a different member of staff had to bake and bring in a marketing themed cake and have it scored by everybody else. After much deliberation, the three categories we decided were the most important to be scored on were "Looks", "Moist" and "Taste" ever so cleverly coined by MD Steve Thompson.
Week one was kicked off by a Twitter themed offering from Rachel, who scored highly across all of the categories and it's fair to say her cake looked amazing!
Week two it was Guy's turn, who treated us the best tasting cake of the competition (albeit the worst looking!) 'The Web'. A chocolate orange themed creation which was as moist as it was tasty!
Setting a new standard, Steve's Forward Role cake in week three scored an amazing 39/40 for "Looks", and a combination of lemon and lime filling with sponge pleased everybody enough to give him an impressive 33/40 overall.
Halloween was upon us in week four and Jamie's immaculate graveyard cake scored top marks for looks; we even each had our own personal gravestones!
Second to last was our creative guru Michael, from whom we were expecting big things! Michael switched it up and decided to bake Oreo and Toblerone cookies as opposed to a cake, with his marketing theme being 'Content is King'! The theme was fitting as they scored highly for "Taste" and "Moist" but dropped slightly on looks.
Finally, week six's cake was provided by Chris. He brought in social media themed muffins which looked fantastic but didn't score too well for everything else!
And finally, after 6 weeks of eating, baking and critiquing, the winner of The Great Forward Role Bake Off is….. JAMIE ALLEN!
Tweet us @forwardrole with your favourite cake from the #GreatFRBakeOff.