Back to Blogs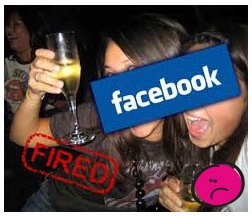 Twitter Just Cost Me The Job
The last decade has seen an explosion of social media platforms grow and die before our very eyes. Some have managed to ride the test of a relatively short period of time whereas others have ridden the crest and then nosedived into obscurity but what binds them all together, the good the bad and the ugly is the fact that nearly everyone knows somebody with an active social media account.
Like it or not social media is here to stay, it gives everyone who is a no one a voice, an opinion, a soap box on which they can stand and purvey to the world their outlandish behaviour or inane daily routine. It is now apparent that the majority of us seem to be jockeying for position to get the most 'likes' and 'retweets' and the only way we can do this is with the good old trusted 'shock and awe' approach. Whatever you can do I can do ten times better and this can be exemplified by the necknomination craze. It seems that everybody wants to be a celebrity.
The difference between a celebrity and the everyday Joe is that the celebrity gets paid to be in the limelight whereas the Joe still needs to keep on top of the council tax and thus maintain a job. With that in mind we think we would have the knowhow to realize that any hedonistic behaviour posted online and associated with our social media account could easily be traced by any potential employee. As we all know some of us aren't born with this much common sense.
In the dawn of a host of personal information being available at the click of the mouse it is imperative that any portrayal of our 'virtual' self is consistent and above board. Millenials need to see themselves as an online brand and they should carefully start to construct that brand from the first time they set up a social media account. Within ten minutes an employer can now access what music you like, what your weekend habits consist of, what your friends look like etc etc and all of this can shape an outcome of whether they get a good feeling about you and you land the job or not.
You're a brand and that's how you should see yourself. If you get the job you are going to be representing a brand. You don't have the celebrity sized bank fund to be able to laugh off any online misadventures. If you do like partying hard at the weekend then make sure you have the right privacy settings on the account, after all Chris from HR who is tasked with doing the background checks on you is as straight laced as they come.
Here are some facts:
In 2013 a report by Eurocom Worldwide stated that 56% of employees search employer's social media profiles.
59 percent of millennials have a Twitter account, with slightly more than one quarter using the service on an active basis.
73% of Recruiters will check the social media profiles of candidates.
So as it stands no one is saying don't go out there and have fun but what is important is that you at least act with one iota of decorum. After all we all watching each other.
Ric Faccin has come a cropper himself this year with a couple of what we prefer to call 'boundary pushing' tweets. So we gave him a slap on the wrists and asked to him blog on how candidates should present themselves on Social Media. When he's not ranting on social media he recruits PPC, SEO, Display, Affiliate, Social and broad digital candidates, for some of the North of England's leading digital brands and agencies. If you'd like some friendly career advice or a confidential chat about a new opportunity check out our latest digital jobs at http://www.forwardrolerecruitment.co.uk/job-types/digital-e-commerce/ or contact Ric on 0161 914 8561 / ricardo@forwardrolerecruitment.com