Back to Blogs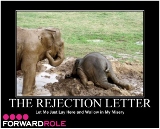 How to handle job rejection and use it to your advantage
Almost all advice when searching for a new role is geared around improving your CV, where to find jobs and interview techniques; nothing really prepares you for the rejection conversation.
If you have done everything you can to prepare for a role and you aren't successful then how you react is critical in helping you secure the next role. It can understandably affect morale and unless you react constructively, your job search can become a real chore.
Here is my advice in helping you learn and improve your chances for that next process:
Accept the current state of the market place. It is a hugely competitive marketplace at the moment with most people keeping an eye on live opportunities. If you didn't get the role, it might be that there was simply a better candidate from a skill, experience or cultural fit perspective. This does not mean you are a poor candidate, quite the opposite – to get an interview in today's market is a success in itself and you can use the opportunity to learn from.
Get feedback. Don't take a bland, cover-all explanation of why you were rejected. If you are working with a trusted recruitment consultant they will have a strong relationship with the client and will be happy to share clear and constructive feedback. Work hard to develop these relationships and if you are prepared to implement changes, you will perform better at future interviews.
Critique yourself. Remember the questions you struggled to answer clearly or with good examples. Honestly assess whether you have the skills and experience required and if you were making the decision, would you have offered you the role? If you feel you did then work hard to improve how you answer. Don't make excuses why it 'wasn't right for you anyway' and try and forget about it. Take the time to consider these factors carefully and avoid them going forward.
Tailor your search. Are all of your job requirements appropriate for your existing skills, experience and character? Work closely with your recruitment partner to assess whether your expectations match the available opportunities. Factors such as:

Salary – market rate?
Industry/Sector
Rare skills
Commute
Opportunity – room for growth?
You should manage your job search as professionally as you do any part of your career, probably more so. With these few pointers and a positive and constructive approach to rejection you will stand a better chance of securing your next position.
Brian Johnson is the Digital Director at Forward Role, a leading Marketing and Digital recruitment agency based in the North West. With a strong focus on building close relationships with candidates and clients we are ideally placed to help you through the job hunting process, and even if you don't get that dream job first time, we believe in working with you closely to improve your interview technique and chances of being successful next time!