Back to Blogs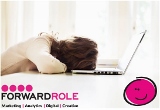 Five Top Tips to Avoid Digital Burnout
Looking at a screen all day, having your phone on all night to receive emails, checking for news in case you need to react to a crisis. How can digital marketers switch off and recharge their batteries?
Technology offers us a smarter way of working; only a few years ago we were desk-bound at a fixed location from 9 to 5, whereas now we can access our work from anywhere. Anyone can reach us at any time, and vice versa. We have evolved into a highly mobile society, so we'd be crazy not to use the great new options technology offers us to be smarter... wouldn't we?
A recent Flux Trends presentation by Dion Chang suggests we need to strike a better balance between our supposedly smart new ways of working and the not-so-smart new disease it has brought with it: digital burnout. Symptoms include low productivity, inability to cope with routine, constant tiredness and inability to control emotions.
It's no surprise that anyone involved in the digital world is at risk from burnout due to the '24/7' nature of the industry, whether it's web design, development, online marketing or social media for personal or business use. We're surrounded by gadgets that demand our attention constantly, effecting our ability to properly focus on day to day activities.
Communications regulator Ofcom has reported that UK adults spend an average of eight hours and 41 minutes a day on media devices, compared with the average night's sleep of eight hours and 21 minutes. The average person checks Facebook and Twitter as soon as they wake up even before they get in the shower! This always engaged, always connected lifestyle is fuelling digital burnout; it has rewired our brains to be on a permanent multi-tasking mode. I am a big culprit of this myself; from waking up I check my emails, move on to social media and if I've still time left to kill, I'll move on to playing candy crush!
This sort of behaviour keeps our minds constantly stimulated, which not only blurs the boundaries between work and play but makes us less aware of the physical world around us.
The physical effect of the internet is so high, we don't really understand the risks it poses to our mental health. The psychologist Larry Rosen claims that personal gadgets make us mentally ill and are contributing to the result of other problems such as depression or obsessive-compulsive disorder.
Connection and communication have taken on new importance in today's 24/7 world of work. Those who manage their stress levels are able to stay ahead and sustain high performance which isn't easy. Everyone manages a social network differently; it's an intimate and personal experience. We all have close connections with whom we can exchange ideas and openly vent. However, in the modern world our social circles are growing rapidly; keeping pace requires a strategy.
Individuals whose role heavily relies on the internet don't have the luxury of disconnecting from the internet, particularly as their work depends more and more on it. However, there are various steps you can take to prevent the negative effects it may have and prevent digital burnout:
Determine what triggers burnout and what you need to alter. One way of doing this is to find out what energises you and what drains you and then makes the necessary changes to avoid wearing yourself out.
Make an "escape list" of everything you need to do in order to escape a lifestyle that's driving you nuts. You might never follow up on the items in your escape list but the process of writing one will help clarify in your mind that you are not truly stuck. You have options!
Holidays are supposed to be about spending time with the loved ones and relaxing. So why not spend some phone-free time? If you think your holiday would benefit from less screen time, set some gadget ground rules. Although nobody wants a dictatorship governing the holiday whatever the rules are, make sure you try and keep to them.
Clarify what is most important in your personal and professional life. This will be critical in order to identify conflicts between personal and professional goals. Control your work schedule to maintain a work-life balance.
Getting enough sleep is crucial to avoiding fatigue. Staring at a bright screen just before bedtime is proven to disrupt sleep, so don't use your phone for at least half an hour before you go to sleep.
Whilst these factors might seem fairly obvious, we're all guilty of some of the above pitfalls.
Awareness of having a problem with work life balance is half the battle so by focussing on how to avoid burnout we're already making a great start to doing just that.
The best part is that you can start today and all these things are free so put your gadgets away and focus on what matters!!
Henna is Forward Role's creative consultant, spending her working life finding our Clients the brightest design and development talent, and also sometimes her evenings networking for candidates on twitter and Linked In! For the latest jobs or career advice you can visit the creative section of our website or contact her on 0161 914 8562.