Back to Blogs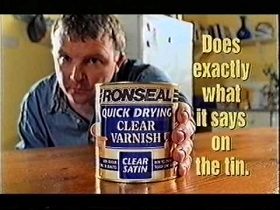 Digital Killed the TV Star: Why Internet Ads Are Taking Over
According to a survey conducted by the ONS, in 2014 38 million adults in Great Britain used the Internet every day, or almost every day, with 68% of these using portable devices such as their laptops, mobile phones or tablets. We have become an "on-the-go" nation – we like our food to go, our coffee to go, we even like our dating to go (swipe left on that one!), so it's not surprising that with more people having access to internet on the go, with the rise of WIFI and 4G, that brands are taking advantage of this extra 'face-to-face' time with their customers.
Even when at home, we tend to use our portable devices as the first stop for entertainment and information. I mean, how many arguments that could easily have turned into WWIII have been quickly resolved by a cheeky Google? We have also become quite demanding when it comes to things like our favourite new shows, and would rather peruse these at a more convenient time than have to make sure we are at home to watch them on TV. And then there are all the must-see funny/cute animal videos that are the backdrop to many a bus ride and office conversation. The internet is prime retail space, and, whether we intend it or not, we are constantly exposing ourselves to marketing campaigns, including banner ads, the commercial breaks that come with websites such as 4OD and NOW TV, and the pre-content adverts on sites like YouTube.
In a poll by the Interactive Advertising Bureau, more than 300 brand marketers and agency executives said they would increase their digital video advertising spend to $10.3 billion this year, which is a 43% increase over 2014. 67% said that the extra budget will be diverted from the broadcast and cable TV kitty and it is obvious why - TV might reach the masses, but online channels engage them as well.
Consumers flock to social media to praise or complain about certain products, brands or services, and so it is a lot easier for companies to respond to the views of their customers using the same methods, as shown in this 'apology' video from Ronseal.
They often use this engagement for further marketing purposes (see the follow on "Apology For Our Apology" video.)
As one interviewee states, it "makes perfect sense".
Other examples can be found on this article from The Telegraph, where supermarkets respond to complaints from their patrons aired over social media (I especially like Tesco's response to the "Bacon Issue" and Sainsbury's fish-related pun battle!) http://www.telegraph.co.uk/foodanddrink/foodanddrinknews/11755365/Funniest-social-media-exchanges-between-supermarkets-and-customers.html.
The internet is by far a better tool than TV for creating viral marketing campaigns, as viewers can spread the message by simply sharing across their social media profiles with a click of the button. For example, the recent #BestBuds campaign from Budweiser secured a reach of 44,699,311 people.
There are many other benefits of using internet ads over TV, including the ability to accurately measure success. You can track views, shares, subscribers, and even the click rate and actual engagement with the website, whereas with TV it is impossible to know how many people went to your website or bought a product after watching your advert. Sending your ad out via the internet is also a lot more affordable than paying for air time on TV - a 30 second advertising slot during Corrie could set you back £50,000, and although this is with a promise of reaching 10million viewers, most of those viewers are away from the TV making a cup of @YorkshireTea and grabbing a few @MarylandCookie's to dunk in it!
Here at Forward Role, we have a team dedicated to recruiting for Digital Marketing positions, so if you are a business with a need for digital genius, or you are a candidate looking to secure your next role in the digital marketing world, please give us a call on 0161 914 8499.