Back to Blogs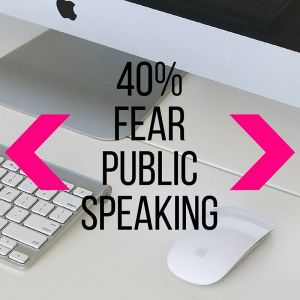 Are your fears holding back your career?
What scares you the most when you think about your career? Interviews, presentations, pitching; sometimes the fear can seem relentless. To mark the UK's 'Face Your Fears Week', we've been researching common worries in the workplace and how to tackle them.
If you're the kind of person to let fear hold you back, you're not alone, but it's time to make a change! We can help you find your dream role, and we hope that the expert advice that we're about to offer will increase your chances of making a good impression with your prospective new employer.
Most common fears in the workplace
To get an idea of the kind of situations that create the most anxiety among the British public, we set up a survey, which asked 750 people what they dreaded the most.
The most common answer to our survey was public speaking. 40% of people admitted to getting pre-presentation jitters, more than any other workplace fear.
Public speaking topped the list for both males and females, across each age category. Talking to an audience is daunting, no matter your age or title. It's a common fear that we all at some point have to overcome, especially if we want to work our way up the career ladder.
The second most prominent answer in our survey was job interviews. Obviously, everyone gets a little nervous when they have a job interview, it shows you care about the outcome. However, interviewers will be looking for confident candidates, and under so much pressure you may struggle to perform. When you know you're going to be faced with difficult questions, it's understandable that you'll feel tense. Yet many of us speak openly about how interview nerves can often ruin our chances for success.
Strangely, it isn't the young professionals who find interviews the most daunting. Those in the 44-54 age category were more likely to rate interviews as their biggest fear than the 18-24 category, 21% compared to 17%. This could perhaps be down to the older category having more responsibilities, such as a mortgage and family, to consider when preparing for new job interviews. Having so many financial commitments can result in the pressure being cranked up.
Various other concerns that came from our survey included pitching, voicing concerns to superiors and performance reviews.
We're all in the same boat, but some deal with pressure better than others. So, how do you ensure that your professional fears don't hinder your career? We asked a selection of company directors and managers - people who've been around the block a few times, shall we say - to share some pearls of wisdom.
Public speaking tips
When it comes down to it, public speaking is a matter of confidence and experience. The more practice you do, the more you'll feel comfortable.
● Our Managing Director, Steve Thompson, says practice does indeed make perfect: "I remember being terrified as a teenager at the prospect and getting a great piece of advice from my Dad. He said that everyone was nervous about public speaking, there is no shame in that and that the only way to overcome that fear is to force yourself to do as much public speaking as you can. The idea being that each time you do it you get a little more confident.

"The trick is to get the early stage of your public speaking practice out of the way when you're younger so you're competent by the time you need to do it in a business environment, but even so there are still great courses, clubs and techniques out there to help you overcome your fear and become a competent speaker."
● There is no way to 'wing it' when it comes to public speaking. No amount of improv experience will hide the fact you're unprepared. You honestly cannot practise enough when it comes to public speaking.
● Everyone has their own ways of preparing, but be warned that not all tips are helpful. Rob Mead, Marketing Manager of Parcel2Go, was given one piece of bad advice in particular, which could have caused quite a bit of awkwardness! "[I was once told to} pick a person at the front and make eye contact with them as much as possible to ensure you're facing the audience. This turns a group event into an awkward one-to-one and let's face it, it's a bit creepy!" While it's nice to pick out a friendly face in the crowd, it'll become obvious to others that you're focusing your attention on one person. Try to engage the entire audience - the best public speakers make the crowd feel like they are playing their part, even if they're not saying anything in return.
● Lucy Whitehall, Wellbeing Consultant at CABA, explained how important it is to power through after you've made a mistake in your speech. It really is a case of "the show must go on". "Remember that you're the only one who knows your speech. While you may make a couple of small errors, if you keep going with confidence it's unlikely anybody will realise. Let go of perfectionism, your audience will respect the authenticity of one or two minor mistakes," she commented.
Interview tips
Every interview is different and you'll find that no two employers take the same approach. Whilst you'll find some of them ask the same questions, they'll each be listening out for their perfect answer. It's this ambiguity that often knocks people's confidence.
Steve notes that in this case, you should always remember that interviews are a good chance for you to ask questions too! "What causes the most fear in candidates is the dent to their ego that a 'no' might produce. A good way to overcome this is for candidates to view the interview as a two-way process. They too are interviewing the interviewer to see if they want to work with the business."
Aside from the questions, it's often the thought of simply talking with your prospective employer that can be a challenge. However, our Marketing Manager, Alison Hart, has some wise words: "If your interview has been arranged by an agency, talk to your consultant, they will have met your interviewer and will be able to give you valuable tips about the person, their personality and maybe even a common interest, which could provide an icebreaker for you!"
How to approach your superiors
The worst thing you can do in this situation is panic. If you do, you may say the wrong thing or approach the situation in a bad way. Set aside your personal feelings and analyse the situation at hand and ask yourself these four questions.
● Will it affect the commercial goals of the business?
● Is it affecting more than one person?
● Is it affecting your own output?
● Do you have a solution in mind?
Being able to approach the situation in this manner will keep your conversation on track. You'll feel confident and that the issue is truly something worth raising with your boss.
People who have been there before
Everyone at some point in their life has been in your shoes. There will always be something you're afraid of, it's how you deal with it that helps us progress. Some of our staff and clients know this all too well. We decided to ask them what fears they've had to face.
Even the most experienced have their off days. Rob recalled a moment in an important board meeting where things didn't go to plan: "Once when presenting to board members, I managed to misread a decimal point on my notes for a presentation I was giving when faced with an unexpected question. I proceeded to make further conclusions for five minutes and summed up my argument before realising. I had to apologise and ask them to disregard everything I'd just said before going back to the start of the point and doing it again with the right data."
Our MD Steve Thompson has seen his own fair share of interview meltdowns, but whatever you do, stay determined and don't walk straight out of an interview. "One candidate in particular stands out, who just stood up halfway through and said, 'This isn't going very well is it, and I'm going to leave now'. Part of our job at Forward Role is to help our candidates prepare and try to make them as comfortable as possible so they are at their best in an interview. We often position first interviews with clients and candidates as an informal first chat or 'get to know you' to make everyone feel more at ease."
The people who sit in the boardroom, the people who are interviewing you and even those you may have to pitch to one day; they all have been in your position before. It's time to face your fears and seize the moment! Don't let your anxieties hold you back any longer.
If you're ready to face your fears and chase a new dream in digital, contact us today and speak to one of our recruitment consultants.