Back to Blogs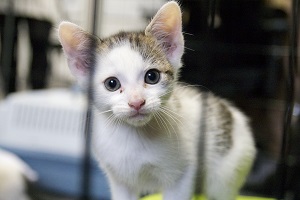 Forward Role has a kitten take over
There were plenty of "Meows" in the Forward Role office last Friday. Why? We had a Kitten Take Over! For a short time in the afternoon the team turned into mush while 7 kittens took over! Our Finance and Operations Manager Lisa melted like butter, Becky from our Agency Team was smitten and there were a few kittens nearly squished with cuddles!
Lending Stream ran a #MeowMonday competition where businesses could enter online to win a Kitten Take Over in their offices. Partnered with Rescue Me Animal Sanctuary, Lending Stream donated £1 to the Sanctuary for every share of a short video which promoted the competition. They raised a brilliant £2,634 and we were lucky enough to win! We obliged, obviously!
Lending Stream will soon be posting a little video of the afternoon but for now, feel sorry for Lisa…. She really wants a kitten…
Update!
The video is now live courtesy of Lending Stream and some wonderful news, all kittens featured have now been adopted!
Video link here - Lending Stream Kitten Takeover