Back to Blogs
The Dangers of Cyber Threats to the UK's Critical Infrastructure
​Did you see the news?

On August 4th 2022, the NHS 111 service was thrown into disarray. A devastating cybersecurity breach brought systems offline and resulted in vulnerable patients struggling to access medical assistance.
While some experts have dubbed the attack as "unavoidable" and "unfortunate", others are conflicted.
​
The NHS 111 Cyber Security Breach
For months, the UK's primary healthcare sector has been preparing itself for a rise in threats from Russia, following warnings from industry professionalHowever, despite the precautions the NHS put in place, it seems their third-party software provider, Advanced, was the source of the vulnerability.
As a result:
Ambulance dispatching became delayed.

No one could schedule out-of-hours appointments.

Emergency prescriptions were undelivered.
​Staff members were forced to rely on pen and paper to organise NHS services. As they desperately tried to keep the country's vital infrastructure ticking. Due to the subsequent inefficiency, phone lines quickly became overwhelmed and thousands of lives were put at risk.
While details such as the identity of the attacker and insights into scale of the damage are yet to emerge (Source: The Guardian), action urgently needs to be taken.

The National Cyber Security Centre's Response
Over the past week, The National Cyber Security Centre has been closely working with Advanced to investigate the cause of the breakdown. Although no confirmation has been made, both Russian hackers and criminal gangs have been mentioned by various news sources.
The Independent reported that one NHS spokesman said:
"NHS 111 services are still available for patients who are unwell, but as ever if it is an emergency please call 999. There is currently minimal disruption and the NHS will continue to monitor the situation as it works with Advanced to resolve their software system as quickly as possible – tried and tested contingency plans are in place for local areas who use this service."
However, as the NHS works to address the issue, industry professionals have already raised further concerns. If just one attack can do this much damage to the UK's critical infrastructure, we need to be cautious.
​
The Danger of Cyber Attacks to the UK's Critical Infrastructure
As the recent NHS 111 crisis revealed, the consequences of successful cyber attacks go beyond financial losses. The safety and wellbeing of UK citizens were put at risk. Going forward, successful breaches in similar industries could lead to further malevolent activity. Essential activity could be corrupted, and key insights into our nation could be used against us.
The House of Commons themselves recently wrote a report on the matter, stating "The objective must be to make it as difficult and as costly as possible to succeed in attacking the UK's critical national infrastructure—and to continue raising the bar as new threats emerge."
​
Other "At Risk" Industries in the UK
No industry is safe.
Over the past 12 months alone, more than a third of businesses and organisations have reported cyberattacks, of which:
83% were phishing scams.

21% were malware or ransomware.
Of this group, roughly one in five "experienced a negative outcome" as a direct result of their breach.
As such, cybersecurity professionals across the country have warned that cyber threats will continue to rise throughout the remainder of 2022 and beyond.
​
The Growth in Cybersecurity Demand
Thankfully, there is one positive result that has stemmed from the increasing number of cyber attacks… a surge in investment into cybersecurity.
More and more, the UK's critical industries are funnelling resources into protecting their digital platforms. Just last year, businesses in the finance and insurance industry spent an average of £22,050 in reducing the threat of successful attacks, with many recruiting full-time specialists.

Going forward, there's just one important question that needs to be asked. Is it going to be enough?
​
| | |
| --- | --- |
| Industry | Average cybersecurity spend |
| Finance | £22,050 |
| Healthcare | £16,800 |
| ICT | £15,400 |
| Transport | £7,730 |
| Education | £7,720 |
| Utilities | £5,420 |
| Construction | £3,750 |
| Professional | £3,500 |
| Administration | £2,870 |
| Entertainment | £1,940 |
| Hospitality | £1,080 |
(Source: Digital Marketing Community).
​
The Responsibility of the Cyber Security Industry
In response to the nationwide concerns about cyber security, professionals and businesses operating in the sector must speak up. Are you one of them?
If so, now is the perfect time to publish content and:
Position yourself as an expert.

Expand your audience.

Encourage others to take urgent preventative measures.
Why? Well, the answer is simple. All organisations (no matter their industry) could experience losses as a result of cybersecurity threats. Therefore, the UK's leaders need to understand the importance of updating their software systems, using antivirus, and following safe data practices such as data encryption.
Above all, it's critical that they educate their employees on how to be safe online as phishing scams boom in popularity. That conversation could start with you.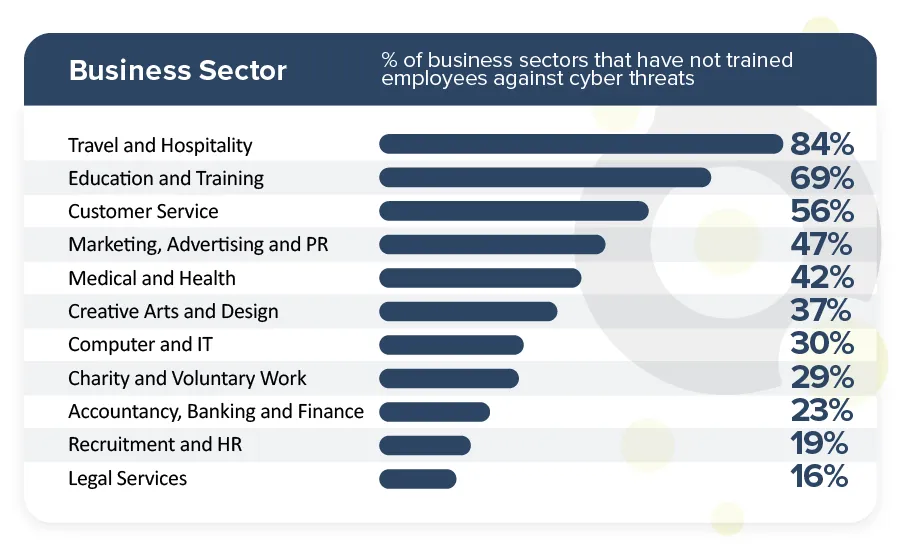 Then, and only then, can we work together as a nation to protect our critical systems.

Work with Forward Role
For help expanding your horizons and driving change in your industry through intelligent recruitment, us!
At Forward Role, you'll find genuine Marketing, Digital, and Tech experts who care passionately about delivering for their clients and candidates.
If you're a candidate, we'll treat you the way we'd like to be treated when making an important life decision like moving jobs. If you're a client you can expect exceptional delivery and communication as a matter of course.
Check out our latest Cyber Jobs.
​