Back to Blogs
How to Secure Software Engineers in a Candidate Short Market
​
Software engineers are becoming notoriously hard to come by.
Not only are they few and far between, but the vast job opportunities available to them means that capturing their attention has become a complex task by itself.
Knowing they are in high demand, qualified candidates are using their power to find a progressive career opportunity that best serves their needs.
What are you offering?
Going forward, businesses in the software industry (or anyone requiring an in-house engineer) have been placed in a challenging position. It seems like there are two options:
Continue to participate in the "talent bidding war" by increasing salary offers.

Rewrite your recruitment practices and invest in your employer brand/corporate culture.
Why? Well, it's simple. Both approaches have been proven to be particularly effective in attracting and converting talent… with one key difference.
​Long-term sustainability.
​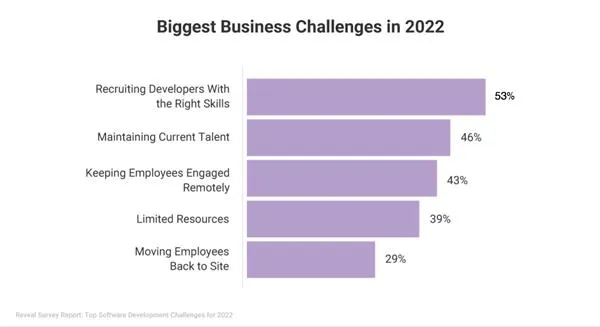 ​
Is the bidding war for talent sustainable?
There's no way around it.
Of course candidates desire to be offered fair pay and a variety of flexible benefits. Job seekers are paying attention to anyone that can deliver this.
Yet, when organisation after organisation in the software market is offering "competitive" market rates, some have started to diversify themselves by offering above and beyond.
As such, the bid for talent is rising higher and higher.
Today, we're in a market where the average software engineer salary in the UK has risen significantly over the last few years. Average offers now sit between £26,000 and £63,000 base pay.
​


In a one-off instance, this might not seem like a disaster. This annual cost is well worth the onboarding of a critically-needed software engineer, right?
There's more to consider.
In order to retain their current employees, leaders have to consider equity and fairness across their organisation. New hires being offered a salary 2-3 times higher than colleagues is going to inevitably cause frustration (Source: Indeed).
Soon, you might lose the software employees that you already have.
Although salaries might remain a secret for the first few months - until a team starts to trust each other - eventually, people will talk. It's a natural part of working together (no matter how much businesses dislike it).
In 2022, leaders can either:
Frequently adjust salaries for their entire IT department.

Commit to the best of both worlds.
Consider giving pay rises according to market rates and financial rewards upon performance, while focusing on building a strong employer brand. This way, you can protect your bottom line (keeping costs at a sustainable level) while still meeting the needs of your talent.
​
The importance of employer branding and corporate culture
At the end of the day, 26% of employees would take a pay cut for a company that offers flexible schedules and a work-life balance (Source: LinkedIn).
There's no reason to believe that software engineers are any different.
If you can create a corporate culture that values its staff members and fuels their career potential, you'll be putting yourself in an excellent position to secure software engineers.
Your employees will talk about how much they enjoy working with you, passing on referrals to their old colleagues and network, thereby encouraging applications.
Doesn't that sound ideal?
Plus, instead of joining the bidding war and finding yourself with candidates who are merely chasing money, you'll be targeting your available positions to someone who genuinely and passionately cares about the work they do.
A strong employer brand will attract individuals who will fit into your existing team, who:
Believe in the same goals as your company.

See long-term growth with you.

Are looking for a supportive and inclusive environment.
This will do wonders for your business, building sustainability in your recruitment practices and securing software engineers in a candidate-short market.
"In the midst of the "Great Resignation," a strong employer brand can make all the difference for companies that want to attract and retain top talent. Today's employees want the opportunity to grow and thrive in an environment that supports their well-being. ​
To show prospective candidates that your company offers this and more, you'll need to develop and promote messaging that tells them what you're all about." - Forbes
​
How to secure software engineers in candidate-short markets
Your reputation matters.
Caring for your current employees and facilitating their requests is an easy way to build engagement rates and job satisfaction across your organisation.
Where possible:
Provide flexible working schedules.

Offer remote working.

Conduct salary reviews.

Cover travel expenses.

Be mindful of mental health.

Introduce working benefits.

Communicate with your team.

Strive to be inclusive.
Use social media to build up an audience of industry professionals, giving a glimpse into what it's like working with you.
Before you know it, you'll have "captured" a few software engineers in your net, so when the time comes and a position opens in your company, they won't be a cold lead uninterested in a job.
They'll consider applying.
​
Working with Forward Role
For help expanding your horizons and driving change in your industry through intelligent recruitment, contact us. If you're a client, you can expect exceptional delivery and communication as a matter of course.
At Forward Role, you'll find genuine marketing, digital and tech experts who care passionately about delivering for our clients and candidates.
If you're a candidate, we'll treat you the way we'd like to be treated when making an important life decision like moving jobs. Check out the Candidate Hub to find all the latest career advice or send us your CV and start your job search journey with us.