Back to Blogs
The Importance of Mobile Apps for Customer Loyalty and Retention
​
Are you someone who has a plethora of shopping apps downloaded to your phone?
Amazon?

eBay?

Wish?

Shein?

Etsy?
You'll likely have at least one. Even if you don't use them often, you'll certainly log in every now and then - regardless of whether it's for a specific purpose or just a "casual browse".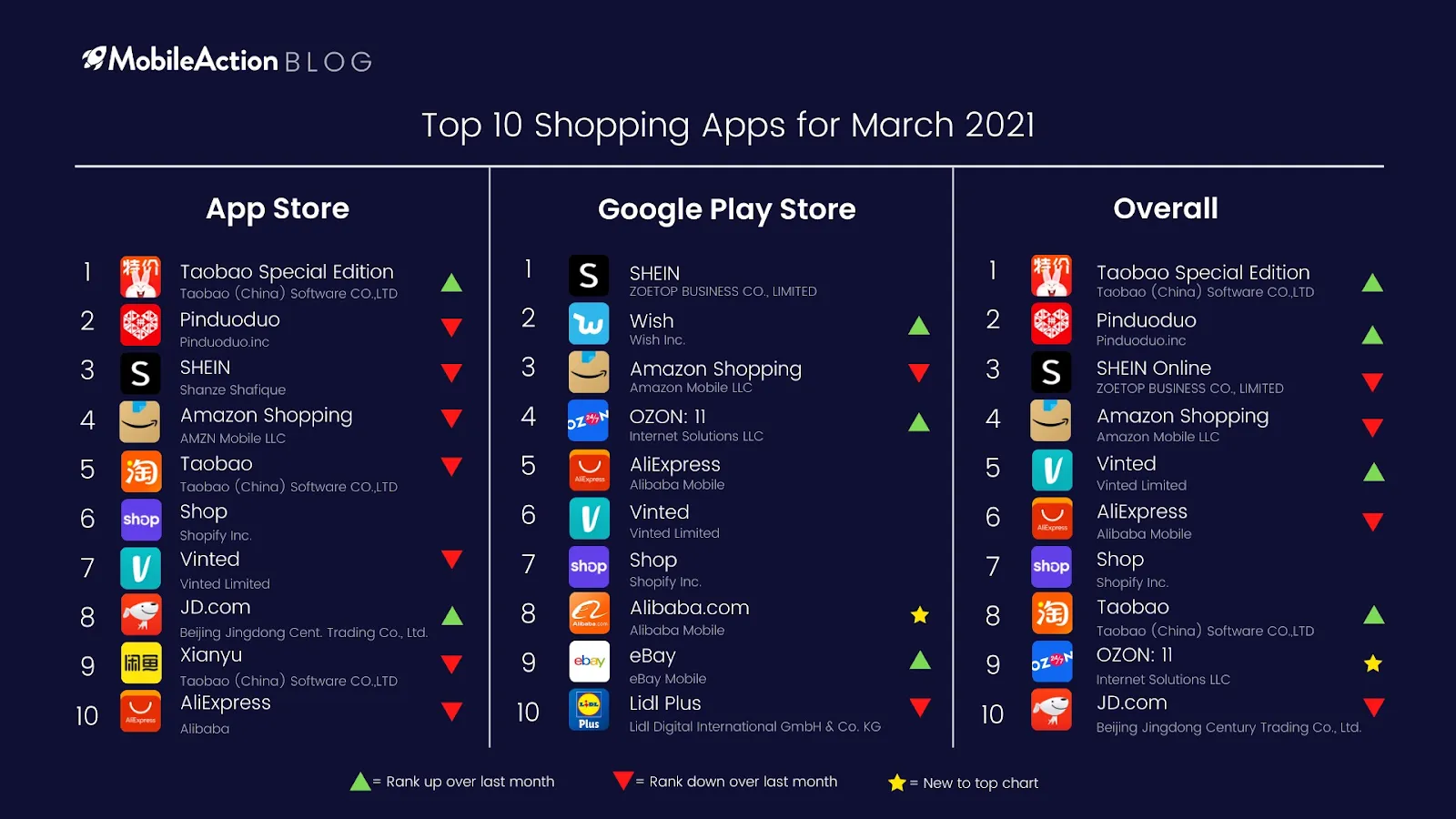 (Source: Mobile Action)
​
The usefulness of mobile apps in marketing

Either way, from the moment you created an account, you'll have played right into the brand's waiting hands.
By handing over your name, phone number, and email address, you've not only given them the power to personalise your shopping experience (potentially boosting their sales by 20%, according to Shopify) but have also facilitated the channel for them to do so.
Interesting, right? There's more.
Ever since you started to use the app to make purchases, you've likely been exposed to numerous push notifications - each one informing you about a deal you can't afford to miss. This "FOMO" resonates with something deep inside all of us, encouraging an additional sale and securing a higher customer retention rate for the business in question.
That's a "win-win" situation for any sales and marketing team. Plus, every time your attention starts to slip and you've not made a purchase in months - boom. You're suddenly the target of a promotion offering 20% off a product you looked at weeks ago.
Even if you don't actually want the item in question, you'll likely:
Head back to the app.

Take another scroll.

Research some alternatives.

Add something to your basket.
As a result, you'll be one step closer to that final purchasing decision. It's not our fault that we fall for this "scheme". It's an incredible marketing strategy designed to influence basic customer psychology.
What's more? Marketers across pretty much every industry can use mobile apps to their advantage.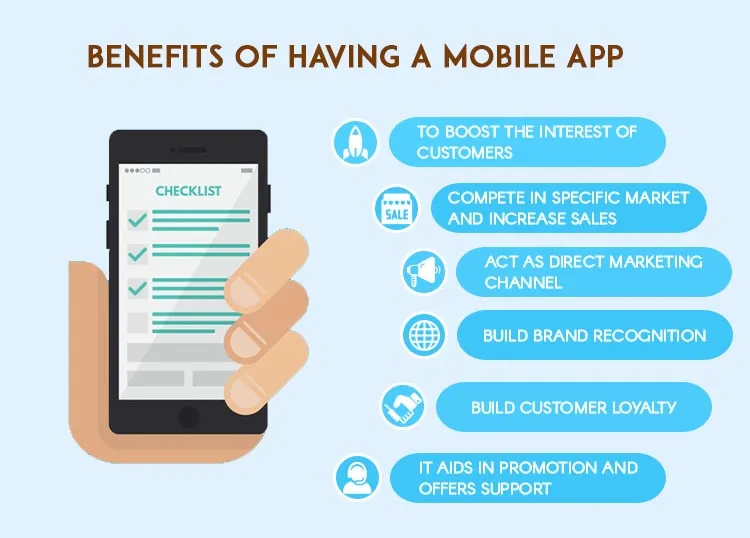 (Source: Jamii Digital)
​
Top 3 reasons mobile apps increase customer loyalty and retention

Did you know that the probability of selling to an existing customer is around 70%, while the probability of selling to a new prospect is only 5% to 20%? (Source: Annex Cloud).
That makes a whopping difference, doesn't it?
When you consider the fact it's also cheaper to retarget and convert old leads, then it's no wonder why app development sales are growing 18.8% year on year in the UK (Source: IBIS World). Businesses are rapidly catching on to the advantages offered by having their own custom application, regardless of the products they sell.
1. Convenience
Have you ever been nearing the end of the day, only to remember a friend or family member's birthday is coming up?
Instead of hopping back on the bus to the city centre, it's much easier to load up your phone, open a shopping app, find the perfect gift, and place an order. In those moments, a brand has placed itself in an ideal position to solve your problem. When they deliver what you ordered in a timely manner, you'll feel satisfied with your experience and more likely to purchase from them again.
2. Personalisation
Although we've mentioned it briefly already, it warrants saying twice.
Personalisation is absolutely key to marketing success across the UK, with 80% of consumers more likely to purchase from a brand that offers a tailored experience to them (Source: Start Up Bonsai). Through mobile apps, you can track a user's browsing history, cater adverts to target them, and implement a reward scheme that enhances their shopping experience and encourages future purchases.
3. Interaction
Have you heard of The Marketing Rule of 7?
f you want your brand to be exposed to as many views and touch-points as possible, encouraging your customers to download an app might just do the trick. Every time they load up their phone, your name and logo will be right there waiting for them - eventually resulting in a sale.
Then, you can continue to interact with that user by:
Asking for their feedback on a product.

Offering customer service support.

Designing an email campaign to increase their lifetime value.
How to make the most of your mobile app
If you decide, then, to introduce a mobile application to your customers, you first need to be sure you can convince them to download it. The worst outcome would be spending all that money on software development… only for a low adoption rate and a terrible return on investment.
You need a launch strategy.
Alongside the standard market research you should conduct, and an exploration of what your customers need from you, try:
Step 1. Building hype
To further encourage customer loyalty, you can start to create traffic and interest in the progress of your mobile application - counting down until its release date. You could even invite some users to trial the platform before it goes live, involving them in an engaging experience bound to capture their attention.
Step 2. Offering discounts and deals
Be sure to offer some sort of reward to any early users of your mobile app, as this will encourage more and more people to make a download. This could be as simple as a 10% discount, or a bundle deal that your customers have been asking for - one that's exclusive only to this new platform.
Step 3. Being creative
Don't be afraid to be as bold and unique as possible with your advertising, working with industry influencers (if relevant) to put yourself out there and promote your mobile application. This will be especially effective in allowing you to reconnect with past customers, who might recognise and remember your brand name and become part of your launch campaign.
Before you know it, you'll have a useful mobile app that is increasing customer loyalty and retention rates across your organisation. Doesn't that sound ideal?
Working with Forward Role
For help expanding your horizons and driving change in your industry through intelligent recruitment, contact us! If you're a client, you can expect exceptional delivery and communication as a matter of course.
At Forward Role, you'll find genuine marketing, digital and tech experts who care passionately about delivering for their clients and candidates.
If you're a candidate, we'll treat you the way we'd like to be treated when making an important life decision like moving jobs, check our our Candidate Hub to find all the latest career advice or send us your CVand start your job search journey with us!
Check out our latest marketing jobs!
​