Craft 09: Doing
Thursday, 23 August 2018
18:00 to 21:30
LEAF, 113–115 Portland Street, Manchester, M1 6DW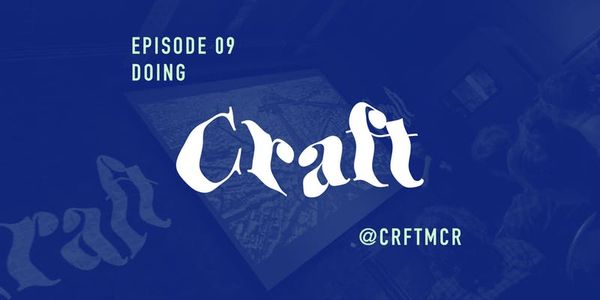 A series of events in Manchester focusing on the craft behind design of all kinds. Born out of a feeling that we should discuss all kinds of design and we should learn from other people's experiences not their portfolios.
Speakers:
DAN HETT
Bio: Dan Hett is a BAFTA-winning multidisciplinary digital artist and creative technologist from Manchester, UK. After a decade spent making big colourful things with technology for the likes of BBC Children's, BBC R&D and Havas, he now operates as a freelance creative tech gun-for-hire. Hett also maintains his own independent digital arts practice, and is currently one of the selected artists on FutureEverything's cutting-edge FAULT LINES program. His work centres around a stubborn refusal to do as he's told with technology, preferring to do the coding equivalent of painting with bold brush strokes on large canvases, leaving the boring bits to grumpy programmers who have to wear ties to work. Ask him about the RFID chip he had implanted into his hand that time.
Twitter: https://twitter.com/danhett
EMMA REYNOLDS
Bio: Emma Reynolds is a freelance character designer and illustrator based in Manchester. Passionate about storytelling and creating unique characters, Emma is currently working on her first picture book. For the past five years Emma has been working in the animation industry, contributing character designs to award winning children's television series and short films. In her spare time, Emma draws live portraits and runs drawing workshops for festivals and events, and lectures at Universities. Her debut comic 'Murder Mystery Special' came out Autumn last year. She is inspired by nature, seeing the magic in the everyday, and bringing characters to life.
Twitter: https://twitter.com/EmmaIllustrate
JORDAN YATES
Bio: Based in the Manchester, Jordan is a Motion/Graphic Designer, illustrator & animator from the Pie capital of the North West - Wigan. Incredibly passionate about all areas of art & design, Jordan's work focuses on designing differently to create an impact. When he's not designing you'll find him in the great outdoors, chatting away in the Northern Quarter or eating - mostly all of these at once.
Twitter: https://twitter.com/jygraphicdesign