eCommerce Live UK - London
Thursday, 20 September 2018
9:00 to 13:00
Dotmailer HQ, London, SE1 9BG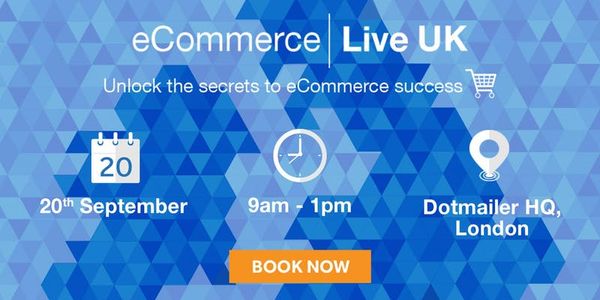 What makes a successful eCommerce business tick?
Hear the secrets to online retail success from those steering some of the UK's fastest growing eCommerce brands at eCommerce Live UK 2018.
Learn how to grow your conversions with a superfast website, how understanding the psychology of your customers delivers amazing results and how to stay ahead of the market in the era of instant gratification. You'll also learn how to build trust within your customer base by protecting critical data and staying ahead of the latest eCommerce cyber-threats.
Why attend?
Learn from top industry-leading experts, which new technologies you should adopt to supercharge your eCommerce business
Hear practical ideas from thought-leaders and put your questions to our panels of specialists
Network with like-minded retail peers during our dedicated break-outs.
Gain 1-to-1 expert advice at our eCommerce clinics (including Magento and Shopware)
Take away a Peak-Seasons Checklist to ensure your website is prepared and secure during periods of busy traffic.
Benefit from our exclusive Maximising Conversions Toolkit detailing what you need to do to stay ahead online.
All attendees receive three months FREE CDN, DDoSX and WAF
For more information and to buy tickets (£60 per person) visit: https://ecommerceliveuk.events/