Going Global - Digital Tools for International Growth
Monday, 9 March 2020
9:00 to 13:00
The Studio The Hive 51 Lever Street Manchester M1 1FN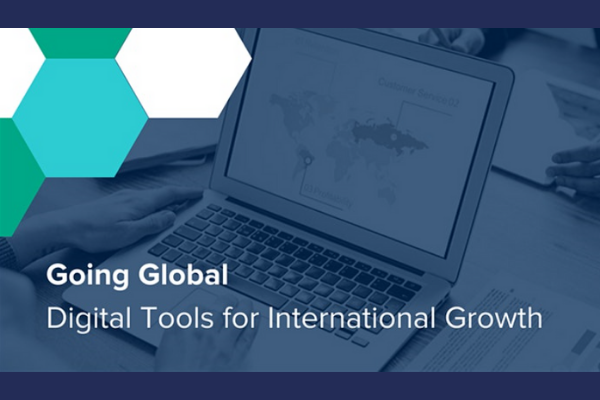 This event is aimed at business-to-business SMEs – whether starting up or scaling up – who want to supercharge their growth.
Whether your business already has an overseas customer, has just started its global expansion or is simply exploring foreign markets, this event will kickstart your international growth plans. Get the tools and insight your SME needs to reach more customers, increase turnover and improve ROI.
What you get
By the end of the session you will have learnt how to maximise online tools to target and sell globally.
At the centre of 'Going Global' is a Google Digital Garage training workshop, 'Scale Your Brand and Advertise Across Borders'. Google Digital Garage is one of Google's flagship investment programmes in the UK, providing free digital skills training to individuals and businesses. Since its launch in 2015, they have visited more than 500 villages, towns and cities across the UK and trained over 400,000 people face-to-face and online.
There'll also be an interactive debate, 'Digital Successes (and Failures) in Overseas Markets', featuring inspirational panellists who'll share their experiences, good and bad, of going global.
A specialist from the Department for International Trade will speak on 'How E-Commerce Can Grow Your Business' and International Trade Advisors from the Growth Company will be on hand to help you on the next step of your global growth strategy. Hear about the funded support and grants available from the Department for International Trade to help you on your export journey, and how you can receive support to develop a successful market entry plan.
Mayor of Greater Manchester Andy Burnham will speak about the future of international trade for the area, while Richard Jeffery, Director of Business Growth at the Growth Company will open the event. There will of course also be networking opportunities aplenty.
Agenda
9:00 - Register / Tea & Coffee / Networking
9:30 - Welcome by Richard Jeffery, Director of Business Growth at The Growth Company
9:45 - Google Digital Garage workshop: Scale Your Brand and Advertise Across Borders. Topics include:
Scaling your brand
Adapting your product or service for the new market/s
How you'll market your product
Helping your brand reach a global audience
Using data to target customers in different regions.
Using data to target the right audiences and build your brand for a wider reach, so that your business can take those next steps to becoming a global brand.
11:15 - Department for International Trade speaker, Tom Dixon: How E-Commerce Can Grow Your Business
11:30 - Mayor of Greater Manchester Andy Burnham: The Importance of Internationalising for Local Business and Greater Manchester
11:45 - Panel Discussion: Digital Successes (and Failures) in Overseas Markets.
12:15 - Lunch and Networking