Back to Blogs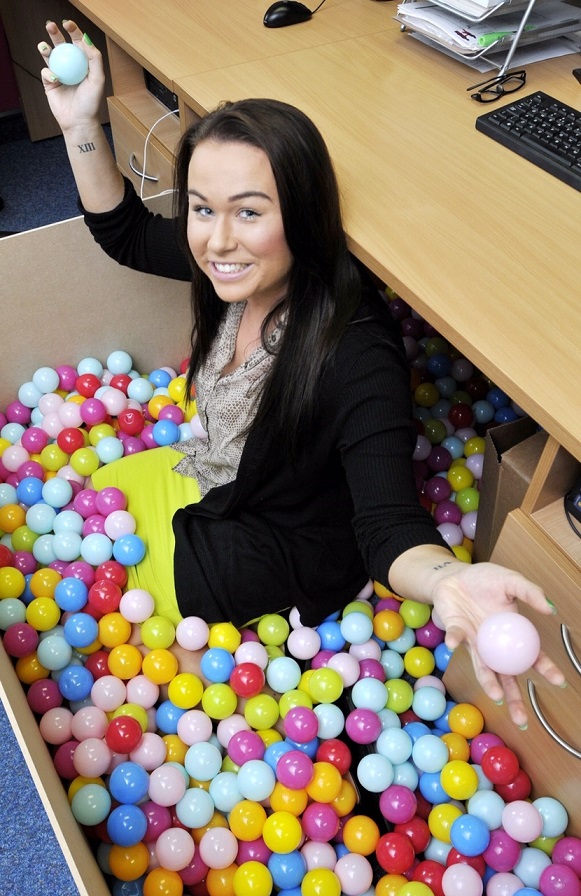 Two phrases used in the Forward Role Recruitment office on a regular basis are, "Let's get buzzin'!" and "Feel good for no good reason!" So when I came across a picture online of a man who had converted his desk area into a ball pit, I explained to my MD Steve Thompson that nothing would make me feel better than altering my work space to look the same.
When he challenged me to get 1,000 "Likes" on Linkedin, saying he would reward me with a ball pit at my desk if I could do it, I updated my status around 3pm on Friday 11th October and kept my fingers crossed that my connections would come good for me.
It turns out my fellow marketing professionals were wholeheartedly supportive of my quest to be able to sit in a ball pit for 9 hours a day, 5 days a week. Perhaps everybody was in a good mood with it being a Friday afternoon, because within 24 hours I had over 1,400 likes and almost 100 comments of support and congratulations after I had hit my target.
Over the weekend I was looking forward to getting back into the office and telling Steve about my success and asking him if I could build my ball pit, but much to my surprise he had been keeping an eye on my Linkedin profile and was one step ahead of me.
As I walked in the office on Monday morning, imagine my excitement as I found my desk area fenced off and filled with hundreds of colourful balls. Steve, true to form, kept to his part of the deal. I literally felt like a kid at Christmas.
In the past I have always used Linkedin to connect with marketing professionals, share our job vacancies and post industry related articles. Much to my surprise, this status was liked and shared and commented on more than any other update I have posted whilst working for Forward Role over the past 15 months.
Thanks to The Bolton News for printing the story about my ball pool, and thank you to all my Linkedin connections. Just like my status said – this has absolutely made my life!!
Forward Role is a Digital, Marketing, Creative and Analytics recruitment business in the North West. Contact them on 0845 257 2231 for a chat about opportunities, finding great people, or view our latest jobs at www.forwardrolerecruitment.co.uk