Back to Blogs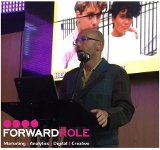 The Red or Dead approach to brand marketing: be what you want to be!
Forward Role was proud to sponsor the Direct Marketing Association North Ball #DMANorthBall last night, and around 140 guests were treated to a fantastic talk on design and marketing by Wayne Hemingway.
Wayne talked about his Northern roots, growing up in Blackburn and his early love of clubbing, dancing, clothes, being in a band and most of all his lifelong partner and now wife, Gerardine - all of which led him to the bright lights of London in the late seventies.
His route into fashion was unconventional. Wayne had no formal qualifications or experience in the industry, but struggling to pay the rent one week because he'd lent all his money to his band mates, he was forced to think on his feet and took some of the clothes that he and Gerardine had made and adapted for themselves down to Camden market to sell. On his first day he made around £100, the next day he went back and sold £200 worth of clothes, and very quickly he was making over ten thousand pounds a day selling a mixture of vintage clothes and pre owned Doc Martens boots. Before long has was able to buy a three bedroom house in London for cash. From an empty rent tin, the global fashion brand Red or Dead was born and one market stall turned into 16 retail stores.
Wayne's take on Marketing was interesting. He advocates a common sense approach to identifying a customer need and giving people what they want. In those days people would pay more for a second hand pair of Levis or Doc Marten work boots than a new pair – a trend that he took advantage of by buying all Doc Marten's returns and soldering broken soles before selling them on in his stores.
He also talked about having the confidence to be who you want to be in life and in business. His first wholesale orders for his fashion brand Red or Dead were from high end stores such a Macy's, but Wayne and Gerardine soon decided that this wasn't the type of customer they wanted to sell to. They wanted to sell to people like themselves and for Red or Dead to "be the first designer company that sold to everyday people", so they ended their relationship with Macy's and started to wholesale to high street retailers like Miss Selfridge and TopShop instead.
This down to earth approach, which caused the likes of Fashion Week to snub him for a period due to their belief that fashion should be elitist, typified the Red or Dead brand. Throw in a bit of a political edge, plenty of attitude and an innate understanding of what people wanted and the brand went from strength to strength, finally being sold to the Pentland Group in 1998.
Nowadays, Wayne keeps himself busy collaborating on design projects with brands such as Virgin and McDonalds; recently designing uniforms for their staff. He works closely with one of Forward Role's favourite clients too; Graham & Brown, designing a range of wallpaper for the Blackburn based business, taking him right back to his roots.
I think that just about sums Wayne Hemingway up. Down to earth, a man who stays true to his roots and someone who continues to be one of the most accessible UK designers.
Steve Thompson is the Managing Director of Forward Role, a leading UK Marketing, Digital and Creative recruitment consultancy. Steve works with a number of the North West region's fashion retailers including Missguided and Shop Direct. For the latest in marketing, digital and design jobs in this sector have a look at www.forwardrolerecruitment.co.uk