Fashion & Beauty Ecommerce Brunch w/ Klarna & Fluid Digital
Thursday, 22 August 2019
9:00 to 10:30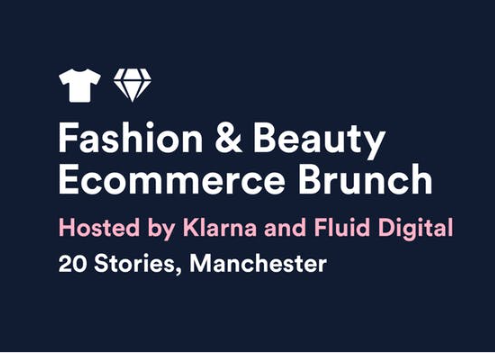 Manchester has introduced some of the fastest-growing fashion and beauty brands to the world, but how have they achieved ecommerce success?
Join Fluid Digital and other fashion and beauty retailers for their ecommerce brunch at 20 Stories in Manchester, for a morning of insightful discussion on the fashion and beauty industry, co-hosted by Klarna and Fluid Digital.
Roundtable discussion chaired by ecommerce experts
Free complimentary brunch at 20 Stories
Unlimited refreshments and hot drinks
The event will follow a roundtable format so go along for insightful discussion and shared ecommerce stories from the fashion and beauty industries.
9:00 - 9:30: Guests arrive for refreshments
9:30 - 10:00: Introductions and opening statements
10:00 - 11:00: Brunch is served and roundtable discussions begins
11:00 - 12:00: Final networking and close of brunch event
This event is for retailers only and tickets will not be made available for agencies, recruiters or freelancers. There are limited spaces available.