Back to Blogs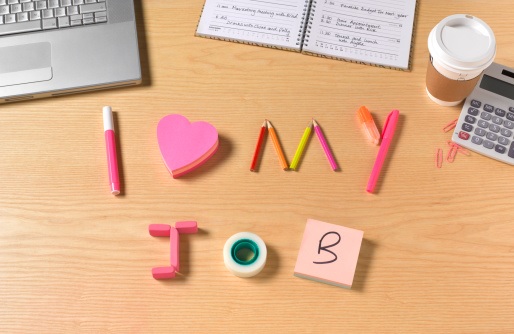 6 Ways To Fall In Love With Your Job
We are all smitten when we start a new job; the feeling of something new and exciting happening is enough to make anyone feel infatuated. However, a few months down the line when you've settled into a routine and your daily activities become a little predictable, most of us become aware that the honeymoon phase is over. You may ask yourself, "Now what do I do?" at the risk of getting bored, and there is only one answer: It's time to fall in love with your job.
Praise yourself! If you feel as though things are getting on top of you, instead of focusing on the countless things you haven't completed yet, praise yourself for the tasks you have accomplished successfully. In the morning write a quick "To-Do" list in order of importance, and at the end of the day make sure you tick off all you have achieved and take a moment to appreciate what you have accomplished.
Keep it fresh. If you feel as though things are starting to feel a bit stale, it's time to get excited again - and the ideal way to do so is to interact online. Learn about new social networking sites, Link-In with some new professionals in your company or area, and sign up to events where you can network with people outside of working hours.
Treat yourself. The majority of us work a minimum of 8 hours per day, and that can often be 8 very busy and hectic hours. However, no matter how busy you are, you should do one thing every day at work just for yourself, for no other reason than because you want to - not because you've been told to by your line manager, or because it's on your to-do list. If it's something small like quickly picking up a caramel latte on your way to work, or listening to your favourite song at the end of your lunch break to get you in the mood for the afternoon ahead, make sure you do something every day just because it makes you happy.
Spice things up! Take on new tasks. Research ways to complete some of your current responsibilities differently, or more efficiently. If you're doing the same things day-in, day-out, make sure you snap out of it and keep your job interesting – remember YOU are in control of what you are doing. Recall why you applied for the role in the first place, and make sure you feel motivated whilst you're working.
Regular dating is essential. Whether it's meetings with co-workers, clients or local businesses, make sure you stay organised and aware of all that is going on in and outside of your business.
Wine and dine! Whether it's a team lunch once a week with everyone from your office, or a night out with everyone in your department once a month, make sure you put time aside to kick back and bond with your colleagues.
Falling in love with your job is simple – if the passion is there, combine that with effort and dedication, and things will blossom naturally. Everyone is different, so do whatever is right for you, and if you're starting to feel bored remember why you applied in the first place. Commitment, enthusiasm and perseverance will, in time, be very rewarding. Work hard and stay positive; who knows? This job could be "The One". However, if it has all got too much and you are on the lookout for the next match made in heaven, check out the new and most promising job dating site for the hottest roles in the North West, Yorkshire & the Midlands: www.forwardrolerecruitment.co.uk.